I
n December 2004 when the Rancho Palos Verdes (RPV) Emergency Communications Center (ECC) went into operation, radio coverage was limited to the west side of the peninsula along PV drive west and south plus the north and east side of the peninsula through the Palos Verdes Amateur Radio Club's (PVARC) 440 repeater.
Coverage on the east and southwest sides of Rancho Palos Verdes was blocked by the San Pedro Hill. Although there were some spotty communications, such as the top of PV Drive East in the Miraleste area and at the foot of PV Drive North and Western, tests showed that 90% of the east side could not communicate with the ECC. The search for a location atop San Pedro Hill indicated the best spot was near the Radar Do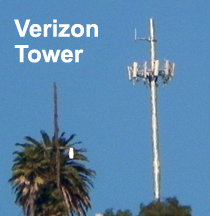 mes.
It wasn't until about 2010 when Verizon Communications indicated they would like to install a cell phone tower on 1,440-foot San Pedro Hill that there was a possibility of installing the east side repeater.
In 2013 Verizon installed their tower which included a 440 antenna for emergency communications. In March 2013, PVAN accepted the donation of a Momentum HDR100 repeater from Harris Corporation.
Final preparations to order and install the remaining components target full operation by the end of 2013.